When it comes to bathrobes, there are many different types to choose from. Whether you're looking for a plush robe to keep you warm after a shower or something lightweight and easy to pack for travel, there's a perfect option out there for you. In this blog post, we will discuss the different types of bathrobes available and how to choose the right one for your needs.
What Is a Bathrobe?
A bathrobe, also known as a dressing gown, is a piece of clothing typically worn after taking a bath or shower. Popular bathrobe materials include Egyptian cotton, terry cloth, and other absorbent materials. In warmer weather, looser knit materials can be popular, while in colder climates, people love stepping into heavier, fluffier bathrobes.
Bathrobes are available in a variety of styles, including wraps, kimonos, and shawls. In addition to their function of keeping the body warm and dry, bathrobes can also be worn as a casual form of clothing. For example, a long robe is often worn over pyjamas or loungewear.
While bathrobes are commonly associated with lounging around at home, they can also be worn in public places such as hotels and spas. These dressing gowns are used in hotel rooms as a courtesy for guests. They may be provided by the hotel or left for guests to use during their stay.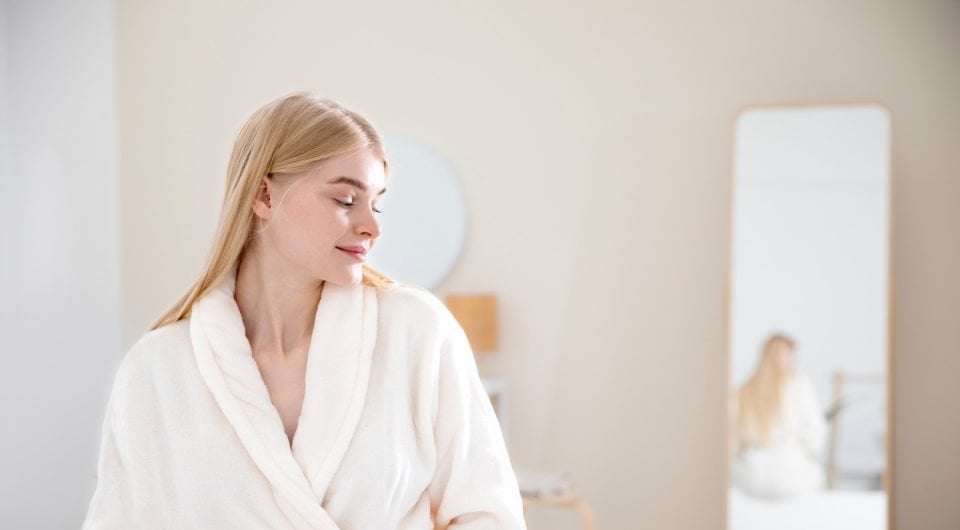 Benefits Of Having a Bathrobe
Whether you're wrapping up after a long day or enjoying a leisurely weekend morning, a bathrobe can help you to feel at ease. Here are some of the benefits of having a bathrobe:
Bathrobes Are Absorbent
Bathrobes are very absorbent. They can help you dry off your body and wet hair quickly after bathing or showering and prevent you from dripping water all over the floor.
Keep You Warm
A quality robe can keep you warm. If you have just stepped out of a hot shower on a cold day, a bathrobe can help to keep your body temperature regulated and prevent you from getting chilly.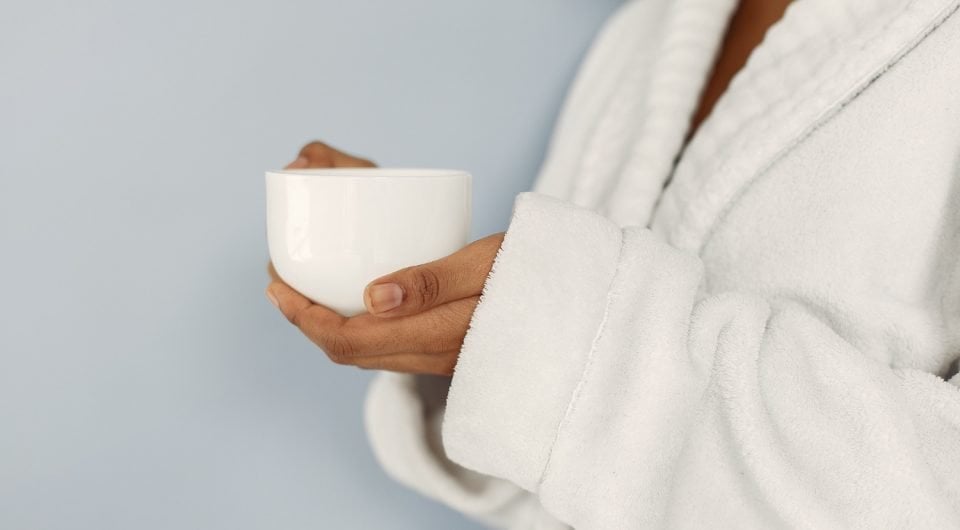 Protect The Skin
Additionally, a dressing gown can protect the skin from rough towels and keep hair from getting tangled.
Provide a Sense Of Comfort & Relaxation
Most importantly, bathrobes provide a sense of comfort and relaxation. After a long day at work, slip into your bathrobe and enjoy some peace and quiet in your own home. You can also wear your bathrobe while you are getting ready for bed, to help you get into a relaxed state before sleep.
Bathrobes Can Be Stylish & Chic
Bathrobes can also be stylish and chic. There are many different designs and colours available on the market, so you can find one that suits your taste and style. You can even buy designer bathrobes that are made from luxurious materials like silk or satin.
Bathrobes Make Great Gifts
Lastly, bathrobes make great gifts! If you are looking for a thoughtful and practical gift for someone close to you, consider getting them a nice bathrobe. You can even have it monogrammed with their initials for an extra special touch.
Different Types Of Robes
There are plenty of different types of bathrobes, including:
1. Classic Bathrobes
These bathrobes are typically made from terrycloth, making them soft and absorbent. They also tend to be on the shorter side, reaching just below the knee. Bemboka's knitted cotton bathrobes generally adhere to the classic bathrobe silhouette. Classic bathrobes are a good choice for those who want something simple and easy to care for.
2. Hooded Bathrobes
Hooded bathrobes are robes that have a hood attached to them. The attached hood does add a bit of style and can be used to keep your head warm on chilly mornings. Hooded bathrobes are usually made from absorbent materials like cotton or terrycloth, making them ideal for drying off after a shower or taking a dip in the pool.
3. Kimono Bathrobes
Kimono robes are usually worn as a standalone garment, typically made from lightweight cotton or linen fabric. They should feature a distinctive obi-style belt, used to secure the robe at the waist.
How To Choose The Perfect Bathrobe
There's nothing better than getting out of the shower in a bathroom and wrapping yourself in a soft, luxurious bathrobe. But with so many different types of robes on the market, it can be hard to know which one is the perfect robe for you.
There are many factors to consider when choosing a bathrobe. Do you want something plush and luxurious, or something sleek and practical? And what about robe length? Should you need an ankle length robe or knee length?
Here is a quick guide on how to choose a bathrobe:
1. Fabric Type/Bathrobe Material
Choosing the right fabric for a bathrobe is an important decision. There are many different types of fabrics to choose from each with its own benefits. You'll want to evaluate light versus heavy material, whether it's an absorbent material, cleaning instructions and ease of washing.
Bamboo
There's nothing like sliding into a soft, cozy bathrobe after a relaxing bath or shower. And if that bathrobe is made of bamboo, it's even better!
Bamboo is a soft, heavier material. It is a sustainable resource that is gentle on the environment and has a number of benefits for both the wearer and the planet. For example, bamboo is naturally antibacterial, so it helps to keep you clean and fresh. It's also hypoallergenic, making it ideal for people with sensitive skin.
Bemboka's bamboo knitted bathrobes are luxuriously soft and made from a combination of 70% bamboo & 30% cotton. The knitted robes are as comfortable and absorbent as they are stylish and durable, perfect for relaxation after a luxurious bath or shower, instantly wicking moisture off your skin.
Cotton
Another popular option is a cotton bathrobe. Cotton bathrobes tend to be soft and comfortable, and because they absorb moisture well, they can be very easy to wash. A high quality cotton robe is a popular choice for both morning and evening routines. Bemboka's luxuriously soft knitted cotton bathrobes are instantly absorbent and made from a super-breahtable 100% cotton fabric.
Terrycloth
Terrycloth bathrobes are absorbent and durable, making them a good choice for those who enjoy spending time in the sauna or steam room. Cotton terry bathrobes are often worn as an outer garment in a sauna.
Wool
A wool bathrobe is a type of robe made from wool. It is usually heavier and warmer than other types of robes, making it ideal for colder weather. Wool is also a natural material that is highly breathable, meaning that it will keep you comfortable even when wet. Wool bathrobes are often made with a plush lining, making them extremely soft and cosy.
Fleece
If you need a lighter dressing gown, a fleece robe is a perfect choice. Fleece bathrobes are made from a synthetic polyester designed to resemble wool. The fabric is lightweight and durable, making it an ideal choice for robes.
Fleece is also known for its ability to insulate, making it a good choice for chilly mornings or evenings. In addition, fleece is often treated with a water-repellent finish, making it ideal for use after showers or baths.
Satin & Silk
Satin and silk are two of the most popular materials used for bathrobes, and each has its own unique benefits.
Satin is a smooth, glossy fabric with an elegant look and feel. It's often used for special occasions because of its sophisticated appearance.
Silk is another luxurious option that's incredibly soft and smooth to the touch. It's also a great choice for those with sensitive skin, as it's gentle and non-irritating. Both satin and silk bathrobes are available in a variety of styles, so you're sure to find one that's perfect for you.
Microfiber
Microfiber bathrobes are lightweight and quick-drying, making them a good choice for those who are active or who live in a warm climate. Microfiber will readily absorb water, and can feel comfortable on your skin.
Blended Materials
These days, it's common for fabrics to be made from a combination of materials. The idea with mixing materials is to enjoy the benefits of both at once. For example, a bamboo-cotton combination breathes more easily than cotton, and feels softer than bamboo. Many of the most popular bathrobes are made from a blend of materials.
Cotton content in the combination of materials will affect its texture, so it's worth checking for the percentage of cotton used in your chosen robe.
2. Size
When it comes to choosing the perfect bathrobe, size is an important factor to consider. There are three lengths of bathrobe, generally divided into ankle, mid calf, or knee length. Some are much shorter, but these are typically only worn at home.
The best bathrobe bathrobe should be spacious enough to allow for a full range of motion, but not so large that it gets in the way. Longer robes can also help keep you warm in the colder months.
3. Weight
Choosing the right-weight bathrobe can be the difference between a robe that you love and one that just hangs in your closet. A great bathrobe should feel heavy enough to be comforting, and light enough to feel comfortable.
Bemboka recommends that a lightweight robe is ideal for warmer months or if you plan on getting out of the shower and getting dressed quickly. They are also easy to pack when travelling.
On the other hand, a heavier bathrobe can be more comfortable in cooler weather or if you want to lounge around the house all day.
Knitted robes can be looser or tighter weaves, depending on your preference.
4. Absorbency
There's nothing quite as satisfying as stepping out of a long bath and putting on a fluffy, absorbent robe. Dense, luxury knitted cotton robes can be highly absorbent, and do a good job of keeping cold air off your skin in the winter.
5. Features
Consider a bathrobe with the following features:
6. Price
The price of a bathrobe can vary depending on the material, brand, and features. A basic cotton robe, for example, may cost anywhere from $50 to $500.
Bemboka offers a luxurious, exquisite bathrobe for just under $350. The pricing of your bathrobe will depend heavily on the materials used and the level of care undertaken by the manufacturer.
The key consideration for bathrobes is comfort and luxury. Luxurious, decadent fabrics and quality of construction means that when you get the right bathrobes, it will feel soft and light on your skin even after years of everyday use. A beautiful, luxurious robe will be comfortable and made with the highest quality materials, designed to withstand rigorous use and washing. A high quality luxury robe is definitely worth the investment.
Final Thoughts
So, there are different types of bathrobes to choose from. The key is to find the right one for you by taking into consideration the factors of size, weight, absorbency, and price. With so many different options on the market, you're sure to find a bathrobe that you'll love.
Read More