Towel Buying Guide: How to Choose Bath Towels
When buying bath towels, knowing what you're looking for and understanding what is both quality and durable is important.
Buying bath towels may seem like an easy feat. Still, the experts at leading Australian bedding and towelling designer and manufacturer, Bemboka, know there is far more to the right selection than the simplicity of look and feel. To help you navigate your journey with the luxury bath time rituals, we've curated our top considerations on how to choose bath towels.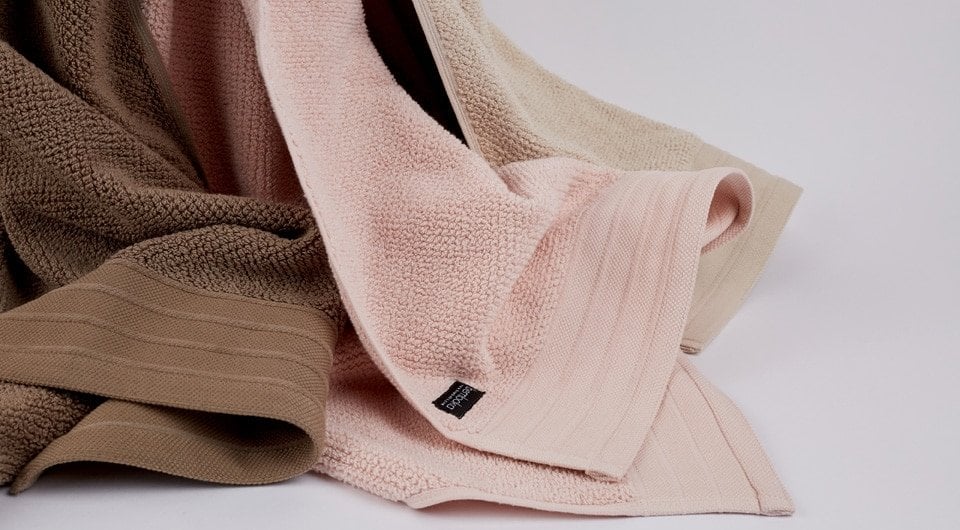 Jacquard Bath Towels in mocha, blush and wheat colours
Bath Sheet or Bath Towel?
Whilst understanding the difference between a face washer and hand towels is widely assumed, did you know that you can choose between a
bath sheet
or a bath towel? The classic
Bemboka standard bath towels
measure 70 x 150cm – 10cm longer than the market standard. However, bath sheets are considered the ultimate luxury, designed to be oversized for extra comfort. The Bemboka bath sheets measure 90 x 170cm – perfect for drying off after a long bath.
It's all about surface science.
When it comes to touch, it is easy to see why so many believe the fluffier, the better. But there's a science to the surface. A towel with a higher surface density (that is, a fluffier towel) will be more absorbent when drying you off but will take longer to dry itself.
However, a towel with a lower surface density will be less absorbent but dry much faster after use. Textured towels, like the Bemboka Jacquard collection, are ideal, as the large surface area of the jacquard diamond texture makes the towels highly absorbent yet fast-drying.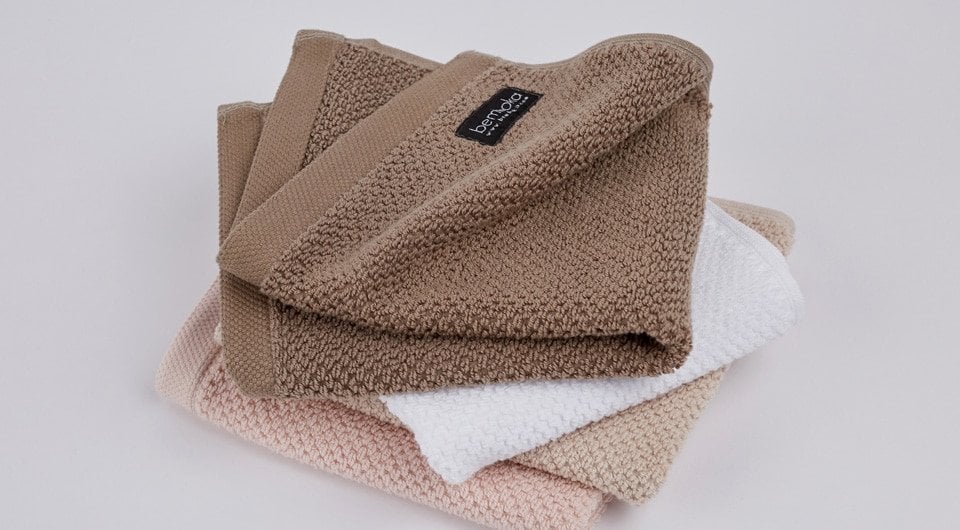 Jacquard Face Washers in mocha, white, wheat and blush colours
Choose natural
When it comes to fabric finish choices, natural is always best. Whilst many suppliers will finish their towelling products with harsh chemicals and silicones (which make towels artificially soft for the first few washes), Bemboka recognises the importance of choosing fabrics, fibres and finishes that treat your skin kindly.
Our premium quality, 100% cotton yarn and natural organic finishing process provide the most premium experiences, maximising absorption from the first use instead of requiring repeated washes to remove chemical finishing.
Weigh it up
A high-quality bath towel will feel heavier than it looks. Pick it up and unfold it – you need to get a good feel for its make before deciding to purchase. In terms of thickness and density, this is weighed in grams per square meter (gsm), ranging from 200gsm in inexpensive towels to 900gsm in heavy and thicker towels.
Bemboka's research shows that leading luxury towels with the best weight, thickness, and fast-drying ratio weighs between 650gsm or 700gsm, with bath mats weighing 1200gsm. Furthermore, towels of today come in a variety of textures to choose from – ribbed, waffle, herringbone and more.
The texture of the Jacquard collection replicates that of diamonds – a unique finish, with the Luxe collection seen as more traditional. Feel the difference – select appropriately thick towels and texture that best suits your needs.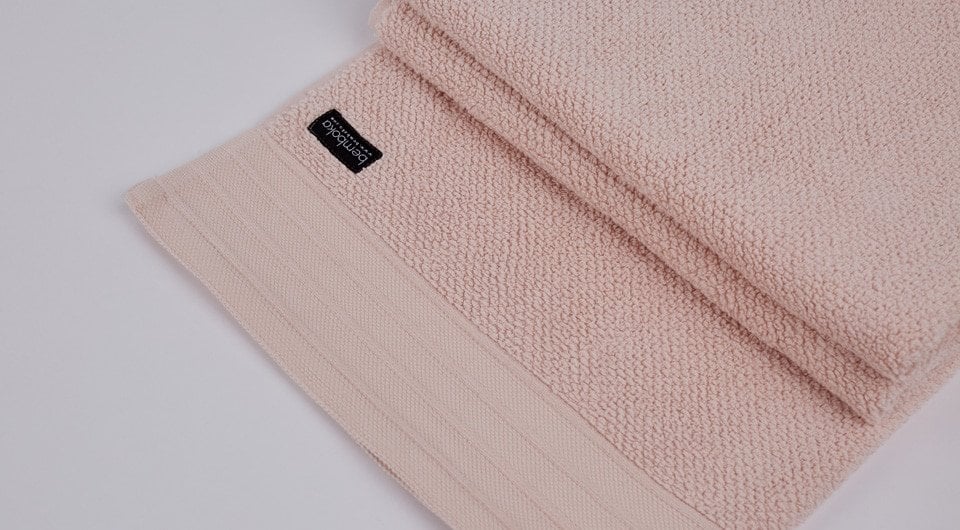 Jacquard Bath Towel in blush colour
Always wash before use.
Remember to wash towels before use – not just for hygiene reasons, but to condition the towels and allow them to reach peak absorbency. Bemboka suggests washing them after every few uses. Take care not to overfill the washing machine or tumble dryer to allow room for them to circulate properly.
Do not mix towels with clothing, as zippers and other metal or plastic accessories can damage them. Line-drying should be in a shaded place, away from direct sunlight. To soften your towels after a wash, and ensure extra softness and fluffiness, tumble dry them on a low to medium heat for a few minutes when you take them off the line.

How to choose bath towels?
Bath towels are an essential household item, and it's important to choose the right one for your needs.
Four things to consider when buying bath towels:
Make sure the towel is of high quality and has a thick fabric to provide good absorbency. The first is the type of cotton used. Combed cotton is less likely to pill and is generally softer than other types of cotton. Ringspun cotton towels are also softer and more durable.
Bath towels are not one-size-fits-all, so taking your measurements is essential. Bath towels typically come in two sizes, standard bath towel and large. Large towels are great for people who are taller or have larger frames. Make sure your towel size is comfortable and sufficient for the number of people in your household.
You'll want to consider the colour and design of the towel. Some people prefer bright colours, while others like neutral colours. There are also a variety of designs, from stripes to solids. No matter your preference, there's sure to be a bath towel perfect for you. Consider whether you want a printed or an unprinted towel. The unprinted towel is less expensive overall but lacks detail in the design.
Consider how often you'll be using the towel and what type of towel is best for your needs.
Size towels and fit
Regarding towel sizes, the rule of thumb is that you should buy towels large enough to cover your body completely. And when it comes to bath towels, ensure they fit neatly into your existing towel rack. It is to prevent tangles and clutter.
Here are four tips on measuring your height and width:
Avoid large towels as they can take up too much space in the bathroom and be difficult to dry out properly.
When measuring your height, consider the towel bar in the bathroom- this will ensure that towels reach all parts of the bathtub easily.
Choose a bath towel size two inches bigger than your measurements- this will ensure plenty of room for absorbency (and less wrinkling).
Use a tape measure to measure your width – at the widest part of your shoulders (to avoid pesky bunched-up ends).
Functionality
Firstly, make sure you choose the right towel for the function you will use it. For example, if you're planning on using your towel as a dryer sheet replacement, select one that is absorbent and lightweight.
Secondly, always store towels properly – keep them away from direct sunlight and moisture levels so they last longer. And finally, check the fabric composition and thickness of your chosen towel before purchasing to ensure durability.
Colour and Design
When selecting towels, you don't have to stick with the basics. Many towels on the market come in exciting and eye-catching designs. Choosing a towel the same colour as your bathroom décor will help revive its look and feel.
Using neutral colours such as white or off-white will create a universal appeal that will look great in any space. Another thing you can do is stay away from towels with prints or patterns – these designs can clash with your bathroom decor and take away from the cleanliness and modernity of your space.
Instead, opt for bath towels that are comfortable, absorbent, and machine-washable.
Material
When it comes to the absorbent towel, it is important to use soft and absorbent materials that will not damage over time. Choosing a towel made from high-quality materials is also essential, as durability and absorbency are key factors in selecting the best towel for your needs.
There are various types of towels on the market today – some made with natural fibres or recycled materials. Select one that meets your specific needs. For example, Egyptian cotton or Turkish cotton may be a perfect choice if you're looking for a lightweight towel that dries quickly!
Ease of care
When it comes to absorbent bath towels, softness is essential. Opt for towels made from high-quality fabric and handle them gently so they last longer. Avoid using harsh chemicals or colours that might fade over time.
Washing towels tips:
Always read the care instructions before laundering your bath towels. Manufacturers provide specific instructions on how to do so.
It is essential to wash towels regularly. It could make towels last longer. So, every other week or so would be ideal.
Hang your towels to dry. Hang towels will help them last longer and prevent them from feeling stiff or scratchy.
Finally, always dry them flat to prevent wrinkles and keep them looking their best for as long as possible!

Final Thoughts
So, what should you consider when purchasing towels? Material, function, size, and colour are all essential factors. But don't forget that the feel of the fabric is also a significant consideration – after all, you'll be wrapping yourself up in it! 
Luckily, Bemboka has a wide range of towels to choose from, so you can find the perfect one for your home. Why not look at the Bemboka website now and see for yourself?
Read More