The Bemboka Guide to a Luxury Bathroom
Our Bemboka stylists, located in Australia, have collated a collection of their favourite luxury bathroom essentials to bring the luxury home
 When it comes to bathroom luxury, much like style, it comes down to a matter of interpretation. Whilst, once, luxury was perceived to be corner tubs with big jets, magnolia tiles and white framed showers, today, minimalism is key.
But whilst trends change by the season, one thing remains – luxury should breathe calm, make you feel wonderful and leave no stone unturned. A combination of interior design and luxury bathroom accessories is ideal for finding your perfect balance between beauty and practicality.
The team at Bemboka has curated their top picks to creating a luxury bathroom escape for you to switch off, unwind and feel fabulous whilst remaining practical for everyday use.
Start minimal
Serene and simplistic, a minimal bathroom is the perfect canvas to build your luxury around. Simple silhouettes and neutral tones can be soothing and luxurious, and make for an easy base to build your own personal style around. You might like to add industrial light fittings, or marble bench tops. Or, for the bold, dominant colours or wallpaper features add a variety of luxe. Be sure to avoid high-moisture or humid areas where the wallpaper is likely to come in contact with water, though!
Image by Steve Cordony
Add some ambient lightning
Well planned lighting is crucial in a bathroom. Too much, and it over saturates a space; too little and you'll miss the ambience and functionality balance. Think about strategic placement, be it next to a mirror, or downlights with dimming capabilities.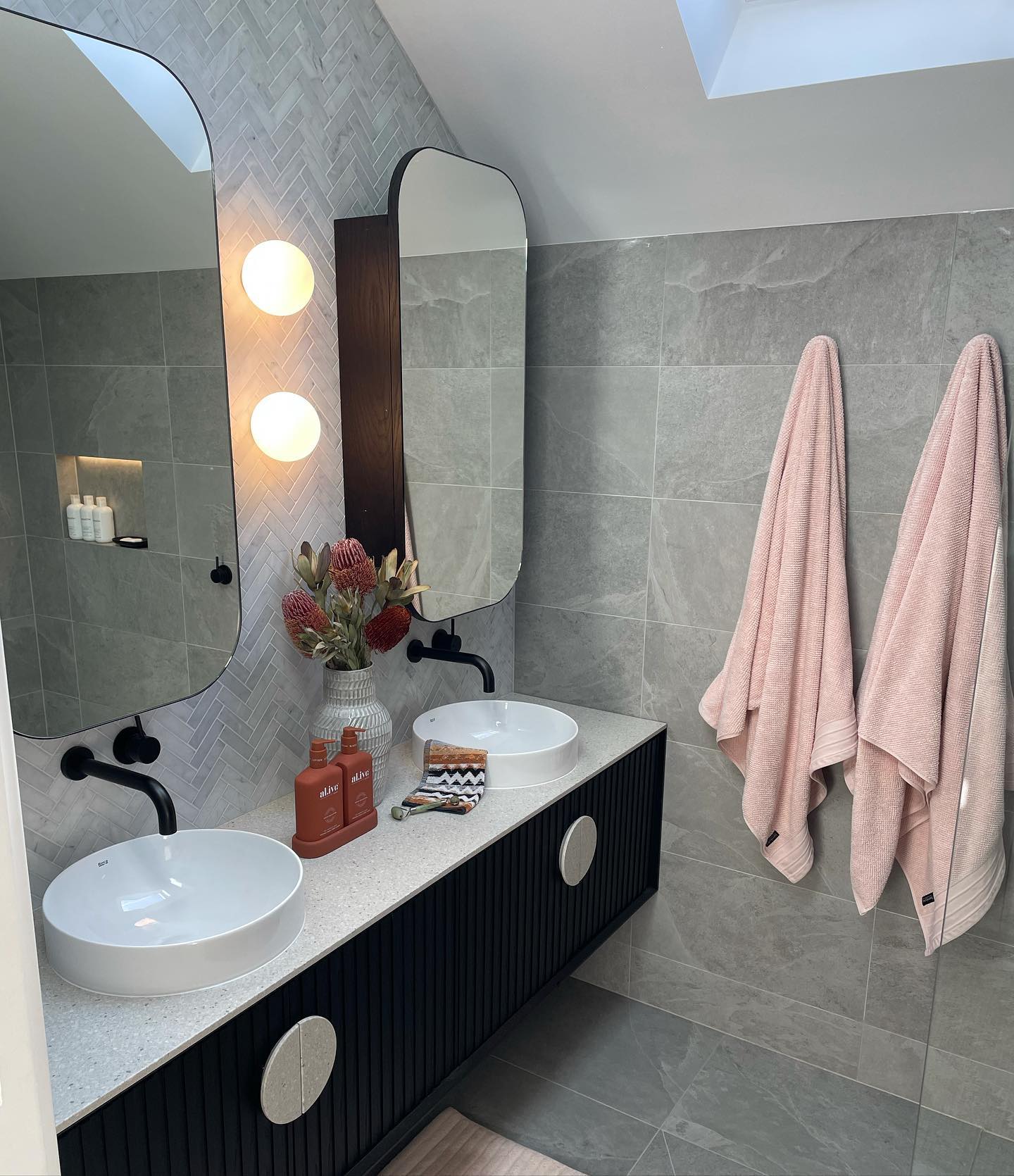 Heated towel rails are a must
Underfloor heating is a true luxury, but does need to be considered before your bathroom is built. For most of us, this isn't an option. However a heated towel rail is a good happy-medium. Hang your bathrobe and warm up the towels whilst you indulge in a long, hot soak in a freestanding tub. They don't have to be boring – there are a range of artfully designed heated towel rails that add a little luxury designer to your bathroom. Our Bemboka Bamboo Knitted Bathrobe is a favourite when it comes to bathrobes, too. ​​Luxuriously soft, instantly absorbent and beautifully designed, the Bemboka Knitted Bathrobe collection offers unrivalled relaxation, perfect for ensuring the ultimate comfort during your valuable downtime.
Add a few luxury bathroom accessories
When it comes to bathrooms, creating a space to simply feel good in is the ultimate luxury, Whilst the space itself is important, incorporating luxury bathroom accessories will be the key factor that contributes to this. Investing in a quality set of bath towels is a good starting point. Thick, soft and sophisticated, the Bemboka Jacquard Bath Towels are designed in Australia and Made in Turkey, and are an exceptional range of 100% Cotton Turkish Bath Towels in a generous size of 70 x 150cm. Pair with one of our Bemboka luxe hand towels, a Bemboka Luxe face cloth and bath mat to complete the look.
For full details, head to bemboka.com
Read More