When you think of a luxury hotel, the first thing that comes to mind is likely the bed. And for good reason – a well-styled hotel bed is inviting and relaxing after a long day! The sheets are soft, the blankets warm… and you know you'll always get a good night's sleep.
So how can you replicate a hotel bed's styling in the comfort of your own home? It's easier than you may think, and can be done in a few simple steps.
In this article, Bemboka shares some bed styling tips to help you achieve the hotel look. Inspired by interior design trends in hotels across the globe, Bemboka understands luxury: and can help you bring this opulence into your guest room or bedroom.
With the addition of crisp sheets or a soft throw, you'll soon have a comfortable and welcoming space that you'll never need to check out of. Read on to learn more.
finding a hotel bedroom colour palette
If you're investing in new bedding, it's important to think about which colour palettes will work best for you. You'll want to consider the overall look and feel of your bedroom, and decide which colours will complement that style.
For a classic hotel bed dressing, white is the optimal choice. For something more modern, opt for muted and neutral colours. These palettes have a calming effect, and look clean and tidy—just as you'd expect in a hotel.
To find the best colour palette for you, consider:
How much colour would you like – does the current layout and style call for more neutral or brighter tones? How can you integrate your favourite colours, to bring some of your own personality into the hotel styling?
The colour of your duvet should be a solid colour, to fit with the rest of the bed dressing. Your duvet will complement the colour choices for your pillowcases, blankets and sheets.
Belgian linen sheets in Coal
Belgian linen sheets and pillows in White
get the hotel look with bed linen
What senses do you associate with a bed in an upmarket hotel? Soft, smooth sheets likely come to mind. For guests of 5 star hotels, pure linen or cotton is an expectation. To style your bed like a hotel, it's therefore crucial to invest in quality linen.
To emulate the experience of a high end hotel, you'll need to invest in linen with a thread count of 300 or more. Not only will this give you a snug night's rest with its supreme comfort; it'll bring an understated elegance to the room.
How to Layer Linen Sheets
To truly achieve the hotel experience, layering is essential. Without layering various elements, you'll miss out on that cosy, inviting feeling that makes hotels so special. As well as layering your linen, be sure to add plenty of blankets, pillows, and throws.
There are a few key design principles you can stick to when layering:
Many hotels use two flat sheets rather than a fitted sheet. Tuck one oversized flat sheet around the mattress using hospital corners – with the top sheet draped and tucked evenly over the sides and at the foot of the bed.
Put the top flat sheet upside down, so you can see the correct side of the sheet when folding it over at the headboard. Smooth this flat and fold the top sheet as far down as you like. Generally, you should fold the flat sheet slightly beyond where the cushions stop.
If you do plan to use a fitted sheet, use one with elastic corners. This will help to keep the sheet snug on the mattress, and prevent it from coming undone at the corners.
how to style a throw on a bed
To style your bed like a hotel room, think like an interior designer and focus on the small details. It's the little finishing touches that add ambience to hotel beds—if you're looking to recreate this, it's important to pay special attention.
For example: a small, thin throw just won't cut it if you really want to give your guests that luxurious hotel-style stay. A casually draped angora and wool blanket, however, is much more inviting! If made from quality materials, it will provide unsurpassed comfort and warmth.
If you invest in a large throw or duvet cover, you can also fold it way down. This is how blankets are folded in hotels around the world, and it's an easy way to create a neat and welcoming bed.
As shown in the image below, the blanket is neatly folded under itself, or rolled forward over itself. Half your bed is covered, with the sheets exposed closer to your pillows. This adds an opulent, relaxed vibe – showcasing your beautiful linen.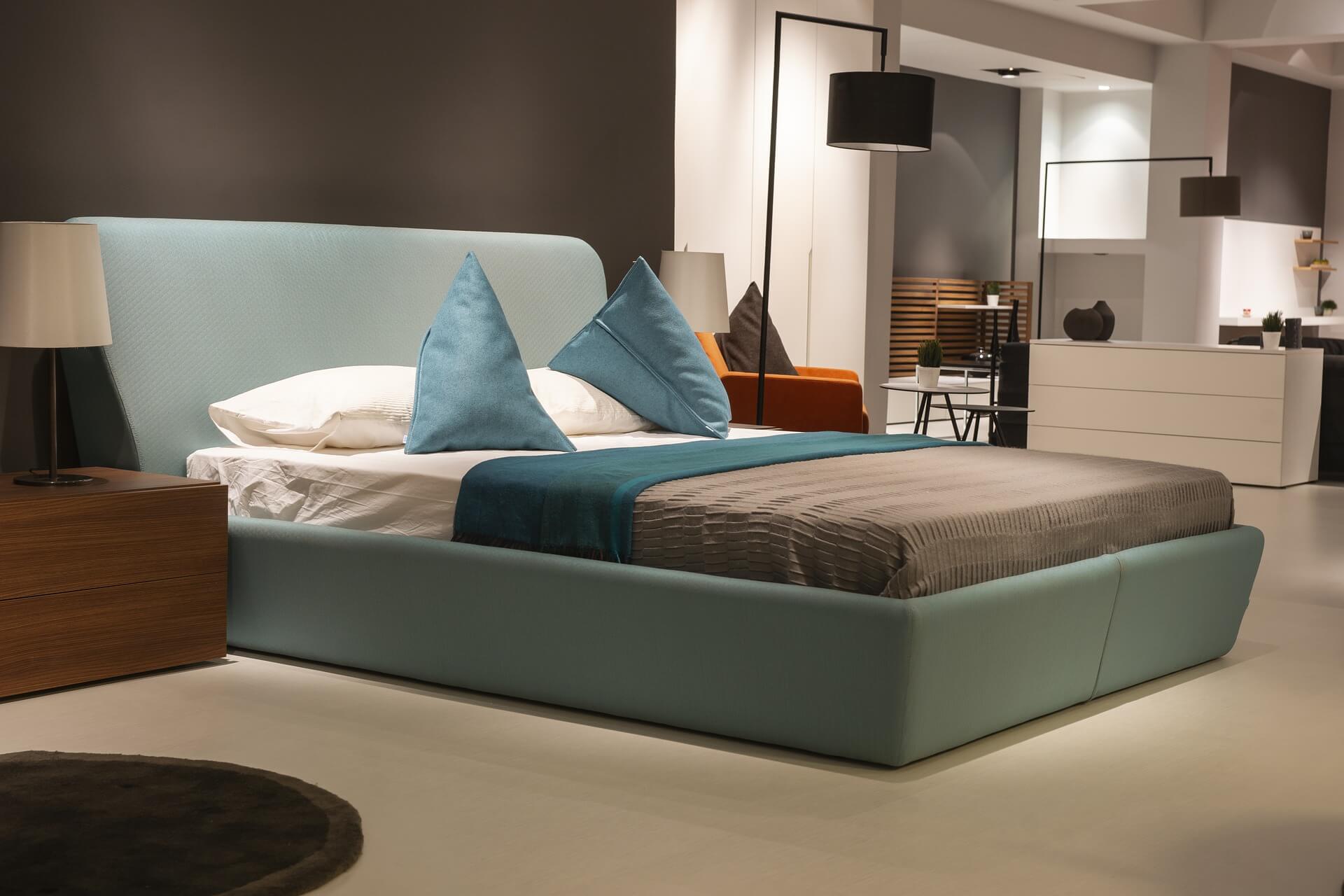 finding the perfect pillow arrangement
If you're wondering how to style a bed with pillows as they do in hotels, there are many ways you can do this. From selecting the perfect cushions to finding the right arrangement, it's certainly worth investing time and effort into. To keep your pillows ultra plush, fluff them well on a regular basis. This will further the feeling of luxe warmth.
In hotel rooms, the bed is almost always the centre of attention. Below, we explain how to use cushion styling to make your bed the focal point of the room.
Making Your Bed Look Bigger with Cushions
Five star hotels have elaborate pillow styling techniques, including the loose pyramid shape. To do this, arrange the largest two European pillows first: followed by smaller and smaller pillows.
Many hotels also use accent cushions, so it's a good idea to experiment with different pillow types and styles. These aren't designed to replace your standard pillows, but can uplift the style of the bed by adding colour and texture.
For a king sized bed, you can use a range of pillow types which include:
Boudoir pillows
Down pillows (or down alternatives)
Euro sham pillows
Long lumbar pillows
For a small bed, less is more; too many pillows will make your bed look crowded.
general tips for hotel bed styling
Hotel bed layering is an art—in and of itself. It takes a careful eye and a deft hand to create the perfect hotel bed.
It is, however, possible to master! Below are a few things to keep in mind, the next time you're updating your bedding to look like a hotel.
Layer plenty of different textures. When you pair pure cotton sheets with waffle blankets, for example, this adds a sense of sophisticated warmth. To build on the comfort of this bed layering, add a duvet, quilt or both.
Invest in a chunky duvet cover with extra fluffy down (or a down alternative). For added comfort, use an insert 2 inches wider and longer than your duvet cover.
Keep your bedding clean and well cared for. This means maintaining good bed hygiene and washing your sheets at least once a week. Blankets need to be washed regularly – as does your mattress topper, to eliminate any lingering odours. Delicate cushions will need to be dry cleaned.
A new bed frame can further add to the hotel look – making the room feel more upscale and luxurious overall. If you're looking to add a touch of class to your home, consider a four poster bed.
Wide Rib Angora & Merino Wool Throw in Dove
When it comes down to it, it's about the quality of your bedding products. Without linen and throws made from premium materials, it's difficult to style your bed like a hotel room.
Bemboka was created for those who appreciate the finer things in life, and is a quality-driven Australian designer. You'll find Bemboka in luxury hotels around the world.
To truly create the hotel experience – for you or your guests – explore our collection of the world's finest yarns and fabrics. Add signature style to your home with our:
Luxury linen;
Angora and Merino wool blankets and throws;
Quilts and duvet covers;
Pillow cases.
Bemboka products are produced with craftsmanship and durability in mind. There is no doubt – they will elevate your bed's styling to the 5 star hotel standard. We are passionate about the creation of stylish interiors, and helping our customers create spaces they adore.
Finding the Hotel Bed Styling to Suit You
If you're looking to add a touch of luxury and refinement to your bedroom, take a look at Bemboka's range of bedding products. Bemboka has everything you need to style your bed like a five-star hotel – in a way that is unique to you. With just a few simple steps, you can turn your bedroom into a luxurious retreat.
Give your bedroom an upgrade it deserves; explore the collection today.
Read More