How to Make Your Bathroom Look Like a Hotel
Updated on October 28, 2022
Haven't you always wanted to have a relaxing and luxurious hotel bathroom in your home? Do you love that feeling of walking into a well-designed space with clean, crisp lines and modern fixtures? A five-star hotel bathroom can be yours – and it doesn't have to cost a fortune. In this blog post, we will share some tips on how to create a beautiful hotel style bathroom at home. Whether you're looking for a quick fix or want to do a complete overhaul, we've got you covered. Let's get started to make your dream bathroom a reality!
The Bemboka Guide to a Luxury Bathroom
Our Bemboka stylists, located in Australia, have collated a collection of their favourite luxury bathroom essentials to bring the luxury home
When it comes to luxury bathrooms, much like style, it comes down to a matter of interpretation. Whilst, once, luxury was perceived to be corner tubs with big jets, magnolia tiles and white framed showers, today, minimalism is key.
But whilst trends change by the season, one thing remains – luxury should breathe calm, make you feel wonderful and leave no stone unturned. A combination of interior design and luxury bathroom accessories is ideal for finding your perfect balance between beauty and practicality.
The team at Bemboka has curated their top picks to create a luxury bathroom escape for you to switch off, unwind and feel fabulous whilst remaining practical for everyday use.
Choose a theme
The first step in creating a hotel-like bathroom is to decide on a theme. This doesn't mean that you have to limit yourself to one style – instead, consider taking your inspiration from an overall aesthetic, whether it's rustic, modern, or minimalistic. Then use this as your guide for picking materials and fixtures in order to create the perfect look and feel.
Invest in Quality Fixtures
Creating a boutique hotel feel in your bathroom is all about using clean lines, sleek fixtures, and modern materials. Investing in high-quality fixtures doesn't mean that you need to spend thousands on custom cabinetry or expensive fixtures – even small upgrades can make a big difference! A few simple swaps like swapping out standard sinks with a vessel sink and adding elegant lighting can go a long way towards creating a luxurious look. For an even bigger impact, choose fixtures in shades like chrome, nickel, brass, bronze or gold – they'll really give your bathroom a more high-end feel.
Another fixture that will make your bathroom feel luxurious without breaking the bank is installing a motion-activated faucet. A motion-activated faucet is a great way to save water (and time) while you're in the bathroom. With most models, all you have to do is wave your hand under the faucet to turn it on – no need to fumble for a traditional faucet handle in the dark.
Get decorative mirrors
Another key accessory for your luxury home bathroom is a stylish mirror with lighting built in or surrounding it. This will help you to put on makeup, style your hair, and more easily see everything you need while getting ready each morning.
Be sure to select a mirror that is the right size for your bathroom. Oversized mirrors can help make a small space feel larger, while smaller mirrors can be perfect for cramped bathrooms.
You may also want to consider getting a vanity mirror. Most luxury hotels feature vanity mirrors in their bathrooms – and for good reason! These mirrors offer a convenient space to get ready while you're in the bathroom, and they often come with plenty of storage space to help keep your countertop clutter-free.
Many hotel vanity mirrors also offer features like built-in lighting and magnification, which can be helpful when you're putting on your makeup or shaving. To add mood lighting to your dream bathroom design, consider installing recessed lights around your vanity mirror that can be dimmed as needed, or consider purchasing a vanity mirror with integrated LED lights. This feature can help you see your reflection clearly – even in low-light conditions! You'll be able to get ready in style – just like you would at a five-star hotel!
Add Storage Space
Hotel bathrooms are always well-organised spaces with sufficient storage for all of your toiletries, towels and other personal items. So why not recreate this look in your own home? Maximise storage by adding small shelves along the walls or over the sink; buy racks for your shower products; use baskets for extra linens; etc. And if you're working with a small bathroom or short on space, consider adding some shelves or cabinets, as well as open shelving for all those precious toiletries!
Embrace Technology
For an extra touch of luxury, consider getting a smart speaker with a voice assistant such as Amazon Echo or Google Nest. These devices are perfect for controlling various aspects of your bathroom experience, from turning on the lights to playing your favourite music while you get ready.
Add Some Indulging Amenities
If you're looking to truly pamper yourself, try adding some indulgent amenities like heated floors (perfect for chilly mornings!) or a rainfall shower head (a definite must-have!). These small luxuries can make a big difference when creating that five-star hotel vibe in your own home!
Add some ambient lightning
Well planned lighting is crucial in a bathroom and it can make a huge difference in how your bathroom feels and looks. Too much, and it over saturates a space; too little and you'll miss the ambience and functionality balance. Ambient lighting can make all the difference in creating a luxurious atmosphere. Consider installing quality bathroom lighting fixtures in your bathroom, from decorative pendants to modern sconces or simple lamps. These small touches can make a big difference when it comes to creating the feeling of a five-star hotel. Think about strategic placement, be it next to a mirror, or downlights with dimming capabilities.
One way to add a touch of luxury to your home bathroom is by installing an LED light bar near the mirror – often, the area around the mirror is quite dark. Unlike a traditional light bar,  LED light bars feature dimmers and remote controls – allowing you to enjoy different lighting effects depending on the occasion.
You can also consider smart ambient lighting. Smart lighting is a great way to set the mood in your bathroom – whether you're looking for a relaxing spa experience or just want brighter light for getting ready in the morning. With smart lighting, you can control every aspect of your bathroom's light fixtures with the touch of a button or even with your voice.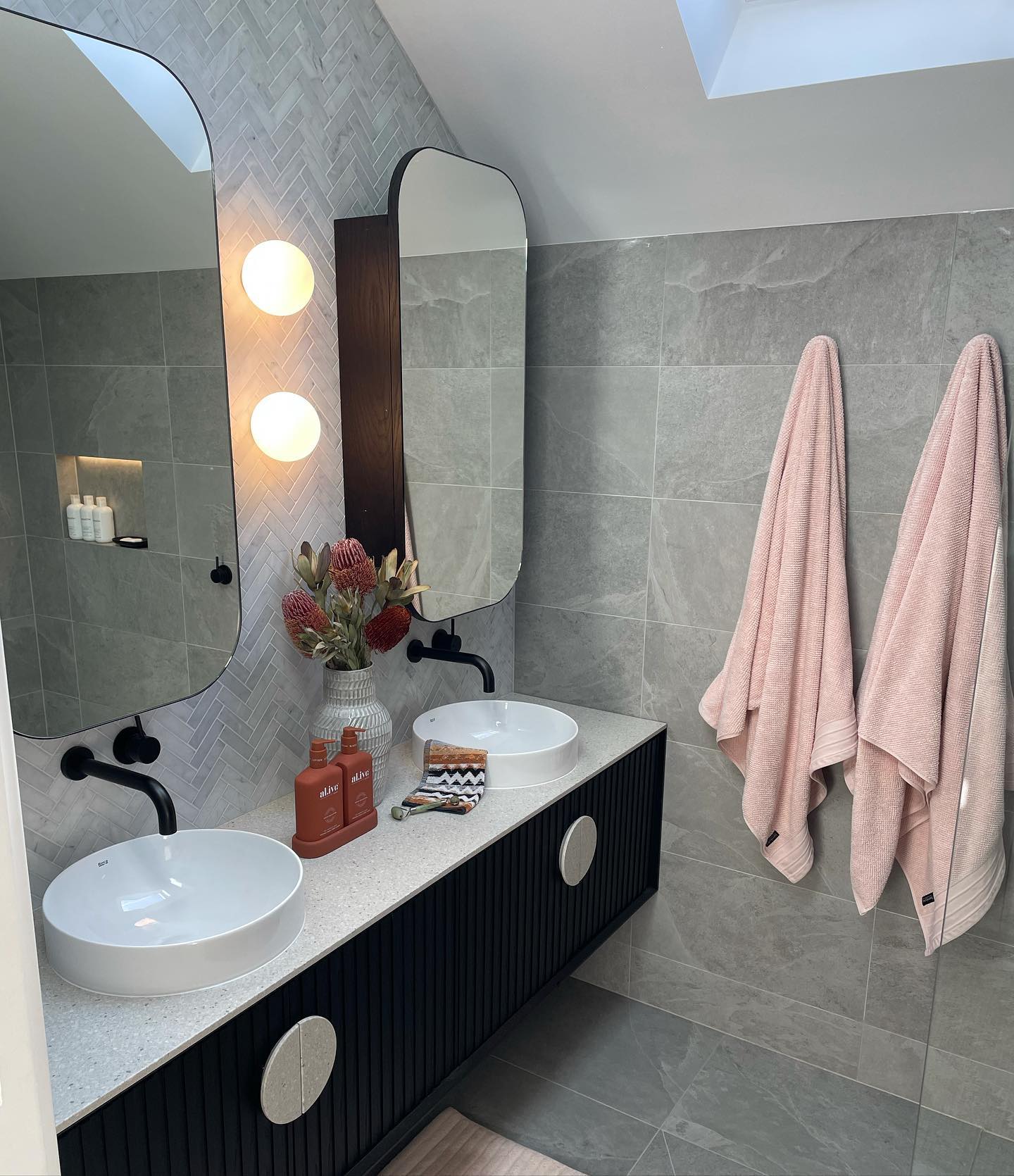 Heated towel rails are a must
Underfloor heating is a true luxury, but does need to be considered before your bathroom is built. For most of us, this isn't an option. However a heated towel rail is a good happy-medium. Hang your bathrobe and warm up the towels whilst you indulge in a long, hot soak in a freestanding tub. They don't have to be boring – there are a range of artfully designed heated towel rails that add a little luxury designer to your bathroom.
Focus on The Details
No five-star hotel bathroom is complete without a few carefully chosen details – and your home bathroom should be no different! Adding decorative touches like candles, plants, or a wall art can make all the difference when creating that luxurious bathroom!
Also – don't forget about fragrance! You'll be amazed by how much having the right scent in your bathroom can improve the vibe of the space! While some people prefer fragrance-free bathrooms, there are also many people who enjoy light aromas and incense as they soak in their tub and unwind after a long day. The good news? Not only will adding scents to your bathroom create an oasis feel, but it also works to hide any other odours that may be present during bath time. And while many think that using strong oils like eucalyptus or pine would work best for masking bathroom smells, it's actually scents like lavender or vanilla that work best!
Add a few luxury bathroom accessories
When it comes to bathrooms, creating a space to simply feel good in is the ultimate luxury, Whilst the space itself is important, incorporating luxury bathroom accessories will be the key factor that contributes to this.
High-quality towels are a must-have for a luxurious bathroom.
Thick, soft and sophisticated, the Bemboka Jacquard Bath Towels are designed in Australia and Made in Turkey, and are an exceptional range of 100% Cotton Turkish Bath Towels in a generous size of 70 x 150cm. Pair with one of our Bemboka luxe hand towels, a Bemboka Luxe face cloth and bath mat to complete the look.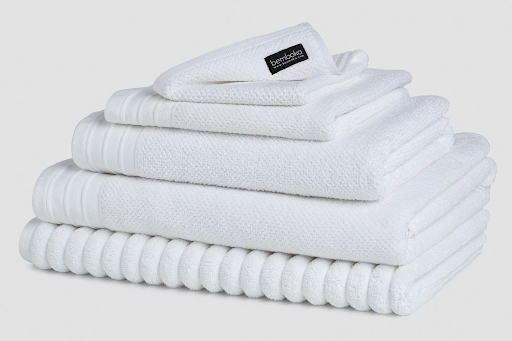 Other essential items that are often found in five-star hotel bathrooms are bathrobes and soft slippers. If you're looking for the ultimate five star experience, consider investing in high quality bathrobes and comfortable slippers that you can use after taking a shower!
Our Bemboka Bamboo Knitted Bathrobe is a favourite when it comes to bathrobes. Luxuriously soft, instantly absorbent and beautifully designed, the Bemboka Knitted Bathrobe collection offers unrivalled relaxation, perfect for ensuring the ultimate comfort during your valuable downtime.
Always keep cleanliness in mind
Last but not least, our final tip is to always keep your bathroom clean and clutter-free! One thing that sets five-star hotels apart from the rest is their commitment to cleanliness and hygiene. If you're looking for inspiration when upgrading your own home bathroom, consider taking some cues from luxury hotels around the world and put extra effort into making sure your bathroom stays clean and sanitised at all times. This means keeping surfaces clean and free of clutter, ensuring that bathroom towels and other linens are always fresh and free from mildew, and investing in a high-quality air freshener or diffuser to keep the room smelling pleasant at all times.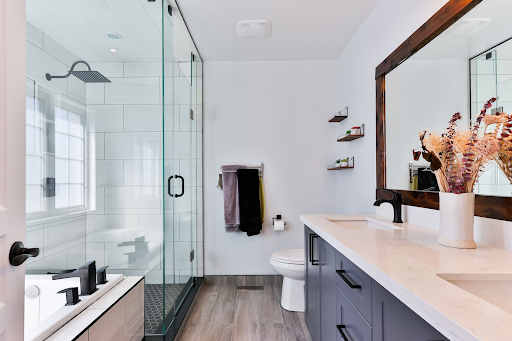 Creating a five-star hotel bathroom in your own home doesn't have to be tricky or expensive. By following these tips, you can transform your bathroom into a relaxing oasis where you can truly unwind!
Read More