How to Choose the Best Bedding for Winter
When the winter season arrives, it's essential to ensure your bedroom provides a warm and comfortable retreat from the chilly weather outside. One crucial aspect of creating a cosy sleep environment is choosing the right winter bedding. From blankets and comforters to winter bed sheets and mattress pads, there are various elements to consider when selecting bedding that will keep you snug and warm throughout the cold nights. In this article, we will provide you with a comprehensive guide on how to choose the perfect winter bedding.
Consider the Material
The choice of material is vital for winter bedding as it directly affects warmth and comfort. Opt for materials known for their insulation properties, such as wool, cashmere, flannel or fleece.
Wool
Wool blankets are highly effective at trapping heat and regulating body temperature. They are a superb choice for cold winter nights, providing exceptional warmth and durability.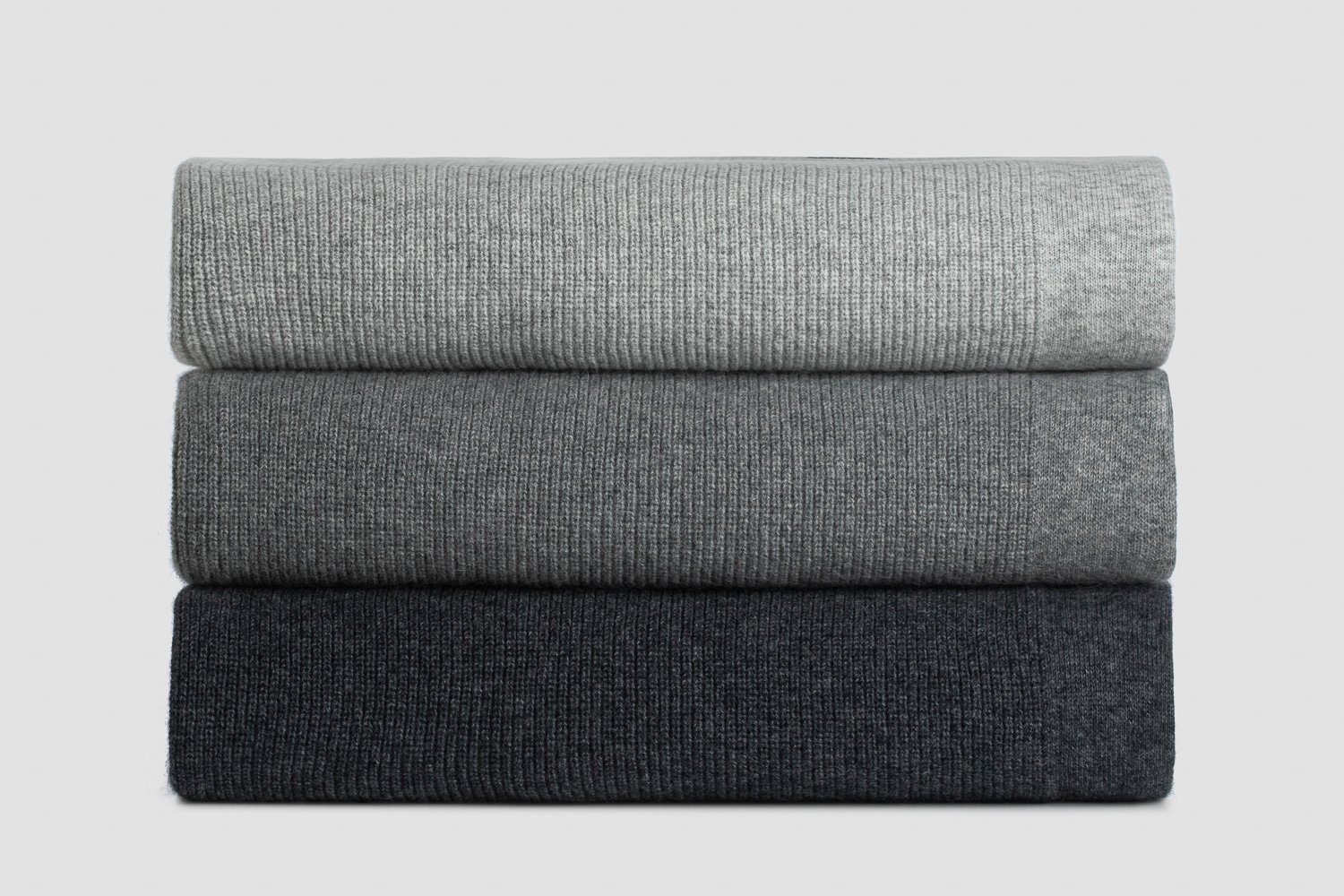 Experience superior softness and cosy warmth like never before with bemboka angora and merino wool blankets. Crafted with attention to detail, each blanket is made to last and provide you with the ultimate sleep experience.
Cashmere
Cashmere is another luxurious option for winter bedding. Cashmere blankets offer a combination of elegance, softness, and exceptional warmth. Made from the fine fibres of cashmere goats, these blankets are incredibly soft to the touch and provide excellent insulation. They are lightweight yet highly effective at trapping heat, keeping you snug and cosy during the winter nights.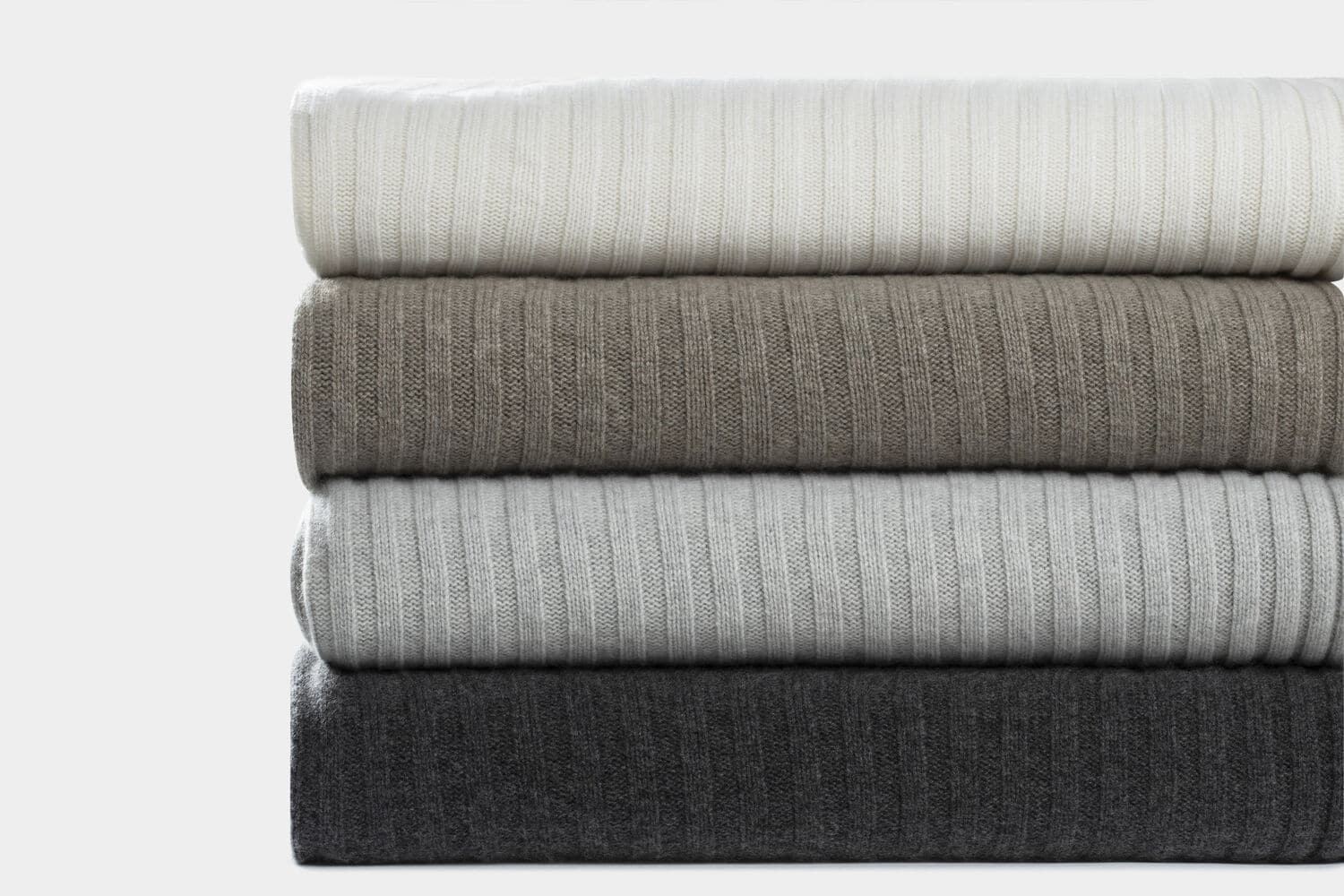 Browse our collection of premium cashmere blankets. Crafted with attention to detail, each blanket is made to last and provide you with the utmost comfort and warmth, especially during those chilly winter nights. Our cashmere blankets are made from the highest quality Grade A cashmere yarn, exclusively sourced for bemboka by Zegna Baruffa, a world leader in the production of exquisite yarns.
Flannel
Flannel sheets and blankets offer excellent warmth and softness. Their brushed cotton fabric traps heat effectively, making them a popular choice for winter.
Fleece
Fleece provides a lightweight and cosy option for winter bedding. It offers excellent insulation while maintaining a soft and plush feel.
Evaluate Warmth and Insulation
The warmth provided by your bedding largely depends on its insulation capabilities. Look for bedding items with a high warmth rating or thermal properties specifically designed for winter use.
Fill Power and Down Alternatives
Comforters with a high fill power and down or down-alternative fill provide excellent insulation. Down alternatives are a popular choice for those with allergies or ethical concerns.
How to Layer a Bed for Winter
When it comes to preparing your bed for the winter season, layering is key to achieving optimal warmth and comfort.
Start by selecting a base layer, such as a fitted sheet or a mattress protector, that provides a smooth and comfortable foundation for your bedding. Next, add a warm and cosy blanket as the first layer. This can be a thick wool blanket or a plush fleece blanket, known for their excellent insulation properties.
To further enhance the warmth, consider adding a second layer of blankets. This can include a down or down alternative comforter, which provides excellent insulation and a lofty feel. Alternatively, you can opt for a quilt or a duvet, depending on your personal preference and style.
To complete the layering process, top it off with a throw blanket or an additional lightweight blanket. These can add texture, style, and an extra layer of warmth.
Pay Attention to Thread Count
Thread count refers to the number of threads per square inch of fabric and affects the softness and durability of bedding. In the winter, you may want to consider bedding with a higher thread count, as it tends to provide better insulation and retain heat.
Optimal Thread Count
Look for winter sheets with a thread count of 300-500 for a luxurious feel and extra warmth. Higher thread counts indicate multi-ply yarns twisted to make a tighter weave. This will keep insulation high but breathability and durability low and is not as good for your skin as the sheet will not absorb the sweat during the night.
Choose Moisture-Wicking Fabrics
During winter, moisture can accumulate due to perspiration or changes in temperature. Opt for bedding made from moisture-wicking fabrics to keep you dry and comfortable throughout the night.
Linen
Linen sheets are an excellent choice for winter bedding as they help regulate body temperature by efficiently absorbing and releasing moisture, keeping you dry and comfortable throughout the night.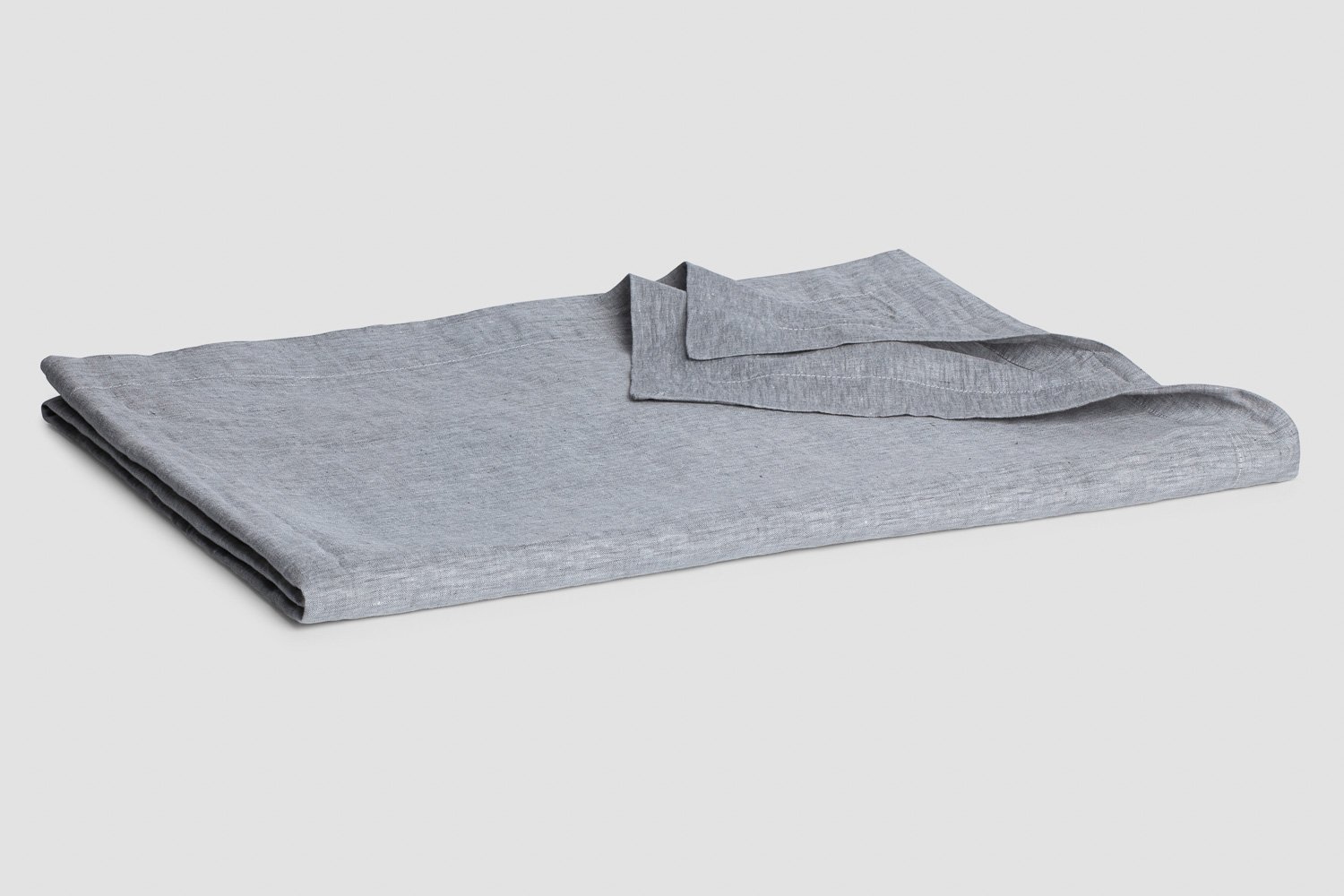 Explore our collection of pure linen sheets and bedding for ultimate warmth and comfort during the winter season.
Bamboo
Bamboo bedding has excellent moisture-wicking properties, allowing for better regulation of body temperature and reducing the likelihood of feeling clammy or chilled.
Cotton Bedding
Cotton is a natural fibre that is breathable and moisture-absorbent, making it an ideal choice for winter bedding.
Tencel (Lyocell)
Tencel, also known as lyocell, is a sustainable fabric made from wood pulp. It has exceptional moisture-wicking properties and provides a soft and comfortable sleep experience.
Select the Right Mattress Pad
An often overlooked but crucial aspect of winter bedding is the mattress pad. Choose a mattress pad that provides additional cushioning and insulation.
Quilted or Plush Top Layer
Look for mattress pads with a quilted or plush top layer that can trap and retain warmth effectively. This extra layer of insulation can enhance your sleeping experience during the winter months.
Heating Elements and Dual-Zone Controls
Some mattress pads even come with heating elements or dual-zone controls, allowing you to adjust the temperature to your liking. This feature is especially beneficial if you prefer a specific level of warmth or if you share your bed with a partner who has different temperature preferences.
Consider Allergies and Sensitivities
If you or your sleeping partner have allergies or sensitivities, it's important to consider bedding that accommodates these needs.
Hypoallergenic Materials
Look for bedding made from hypoallergenic materials that are less likely to trigger allergies. High-quality down alternative comforters, for example, provide the same level of warmth and cosiness as down-filled options but are made without allergenic components.
At bemboka, all of our bed sheets, pillow cases, quilts & duvet covers are crafted with natural hypoallergenic materials and are certified under the Global Organic Textile Standards (GOTS) and STeP by OEKO-TEX® Sustainable Textile Production, ensuring the highest level of quality and safety for our customers.
Allergen-Resistant Bedding
Some bedding products are specially designed to resist common allergens such as dust mites, mould, and pet dander. These allergen-resistant options can help create a healthier sleep environment for allergy sufferers.
Conclusion
Choosing the right winter bedding is crucial for ensuring a restful and cosy sleep during the cold climate. Consider materials known for their insulation properties, evaluate warmth and insulation ratings, and opt for moisture-wicking fabrics to keep you dry and comfortable. Pay attention to thread count for enhanced softness and consider any allergies or sensitivities when selecting bedding. By following these tips, you can transform your bedroom into a warm and inviting oasis, perfect for hibernating through the winter season. Selecting the ideal winter bedding will not only keep you warm but also contribute to a peaceful and rejuvenating sleep experience.
Read More