Australian For Bemboka
Why Australian linen designer, Bemboka, is fast-becoming a homegrown favourite, globally.
Australian linen designer and manufacturer, Bemboka, has fast-become an international favourite, recognised for its quality, design and sustainably-conscious approach. From its humble beginnings in 1997, the premium textile brand has grown its reputation steadily, both in retail and commercially, to, today, be trusted in the homes of thousands, and as the preferred supplier by a portfolio of prestigious boutique hotels and resorts, globally.
linen pillow case with flange
So, what makes Bemboka Australia's leading international linen provider, outside of its enduring durability, craftsmanship and sophisticated timelessness?
Let's start with a consistent vision. Created for those who appreciate the finer things in life, Bemboka is passionate about interiors and design trends, with a vision to add signature style through its leading collection of luxury bath towels, bedding, bathrobes and interior textiles. It's dedicated knitting factory has been producing exceptional merchandise since its establishment in 1962. Exploring the world to source only the finest yarns, the brand designers have an in-depth understanding of what is required for luxury results. From understated Australian angora and superfine blends of merino wool, to Italian cashmere and Turkish cotton – the team casts its net wide and thin to ensure only those products in line with the brand ethos are used.
Secondly, it is recognizing the consumer need and want. Much of Australia's premium linen is sold as French, but is actually made in China, which is often labelled as PRC (the People's Republic of China). As such, Bemboka has operated under higher overheads to ensure quality of product is not compromised. Linens are spun in Europe and produced to the highest quality, such as anti-bacterial, soft in touch, anti-allergenic and promoters of thermal regulation. Bemboka understands that characteristics of elegance and sophistication fall in line with minimalism and hand-care. Products are designed to ensure there are no visible stitch lines, are dyed using a unique stone-wash process, and soften with each wash, meaning they are made to last and to please.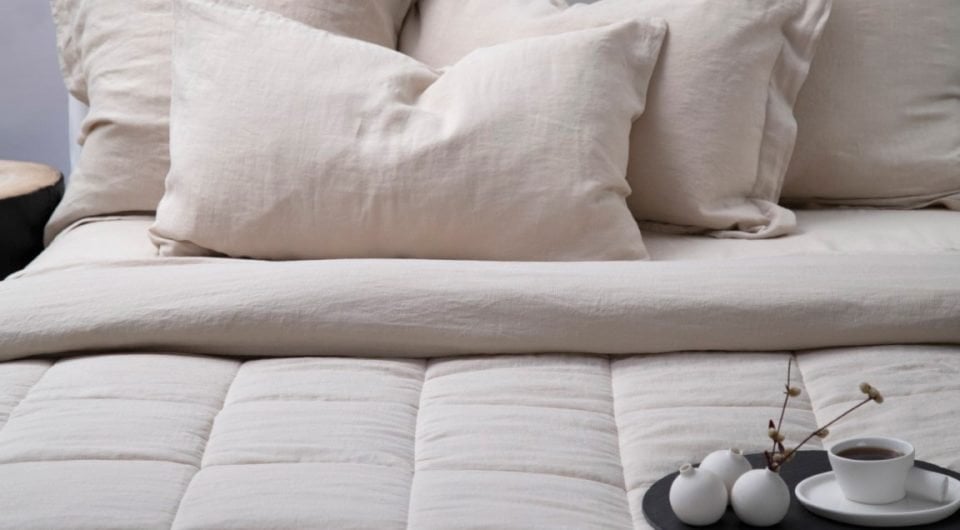 linen sheets
Bemboka stays true to its promise. Its care guide lists where the products were made, yarns sourced and the care required to maintain quality. The brand holds personal relationships with its suppliers, from the flax farmers, through to the spinners and knitters in the factories and the distribution persons. These relationships ensure the brand delivers on its word, from start to finish, whilst maintaining its commitment to quality. Watch out for cheap alternatives, including leaving the location of production off the label, rough seam and stitch lines, or lower price tags. Real, quality linen is an investment, so low prices will more often than not raise a red flag.
Finally, the brand has an unprecedented level of customer service. From assistance in styling, to inspiration, customer care and fast-delivery turnaround, the dedicated Bemboka team values its loyal consumer family, and is on hand to ensure the process is seamless, friendly and attentive.
Check here how to wash your linen.
Read More