Decorating homes, together
A Buyers Guide: Choosing the Perfect Bed Sheets
Expert tips to choosing bed linen for the ultimate luxe experience
When it comes to choosing your bedroom décor, a key consideration must go to your choice of bedding. After all, as we spend an average of 229,961 hours in bed throughout our lifetime, it's important we are comfortable in doing so! Whilst many Australians look forward to the complimentary breakfast as a major advantage of hotel stays, a large proportion also attribute the luxury of the bed as a primary highlight of the experience. To save you the time on Googling 'best hotel bed sheets' and 'how to get that hotel bedding feel', our Bemboka experts have collated the ultimate buyers guide to choosing the perfect bed sheets in Australia.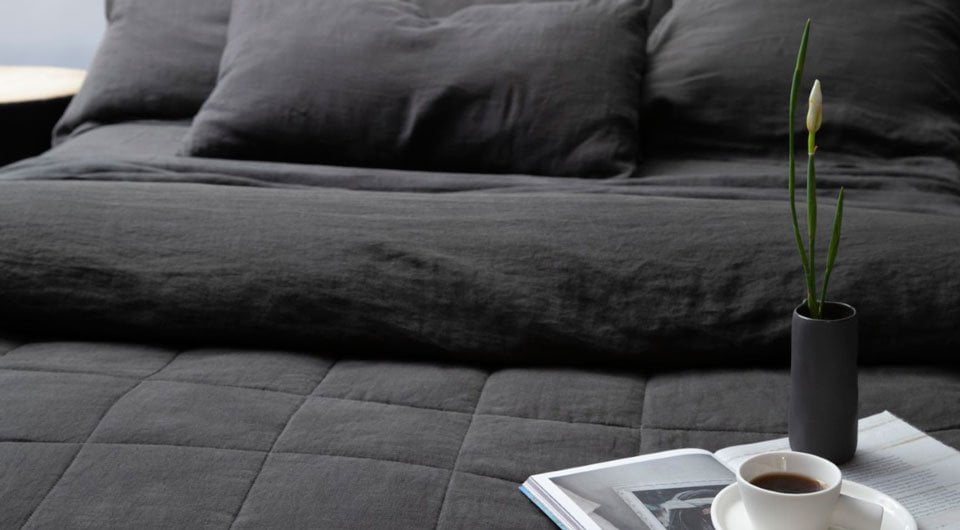 Check the size of your mattress
It sounds obvious, but the very first thing you need to do is check the dimensions of your mattress. Whilst the terminology of 'single', 'queen' and 'king' runs as a guide internationally, the exact measurements of that size guide may differ from brand to brand. Check the height, including the mattress protector or pad (if using), in three different areas, but not the corners. If you are investing in quality bedding for long term use, such as pure linen bedding, it is a good idea to buy Bemboka bed sheets, that are heavily pre-shrunk in the factory. The same goes for your pillow sets – be sure to consider the length and thickness of your pillows prior to purchase, and allow for that extra wriggle-room. Bemboka suggests buying all linens as separates as opposed to 'standard packs' to ensure precision.
Fitting the décor
When investing in quality bedding, it is wise to stay with staple colours and textures to ensure longevity of your sheets. But, how does one choose a colour? Consider the style of your room and pick something that will wear. Crisp white, whilst instating a fresh sense of cleanliness and that hotel-luxe feel, is great for brightening bedrooms, but will stain easily. A deeper colour or shade, like grey marl, coal or even an ash, will wear longer and compliment any décor.
Bedding is versatile, sheets can be mixed and matched with various duvet covers to match your mood, or paired with a print to add interest. Current colour trends include blush pink, ash and indigo blue. You may like to explore ways to include these hues into your décor with the addition of a blanket or throw, like the Bemboka Trieste Cotton Blanket, or Bemboka Reversible Rib Cotton Throw.
Climate and seasonality
Whilst climate and seasonality will play into your choice of bedding, you should also consider your own body temperature. Bemboka experts suggest that, if you look to purchase sheets based on your own body temperature and not aligned to seasonality, you'll better achieve year-round comfort, instead of depending on your heating or air conditioner. When it comes to the best bed sheets for both summer and winter, 100% percale cotton and pure linen sheets are ideal choices, offering supreme comfort through breathable, soft and durable fabric. The Bemboka Linen and Bemboka Percale Cotton Fitted Sheets are a great starting point, bound to keep you warm in winter and cool in summer. For extra comfort, layer sheets with blankets for that hotel-luxe experience. Check out our guide transforming your bedroom into a 5-star hotel suite for full details on the triple sheeting method.
Read Next
There's nothing quite as relaxing as rolling into the crisp, fresh bedding of a luxury hotel suite after a long bath. The smell of freshly laundered linen, serene surrounds and premium service amidst a stylish, opulent interior décor, a hotel sleep is nothing short of a pure indulgence.
Australian temperatures have been reported to be on the rise, with 2019/2020 recorded as our hottest summer ever. Keeping your home cool and comfortable is crucial in ensuring a good night's sleep, and doing so sustainably and without increasing your energy bill is achievable.
Tip tips to correctly washing towels and keeping your luxury Bemboka bath collection looking fresh, soft, fluffy and new. A premium set of luxury bath towels is true indulgence in any bathroom, and, with the right care, a long-term investment.