5 Tips to Creating a Relaxing Bathroom
The Bemboka Bathroom collection offers unrivalled relaxation, perfect for ensuring the ultimate comfort during your valuable downtime.
What was once considered a solely functional room of the house has fast become a place of relaxation, calm and self-care. Modern bathrooms, today, are designed around the user experience well-being, taking into consideration the diverse array of activities they now need to accommodate for. Unless you are fortunate enough to have the luxury of creating your dream bathroom design from top to bottom, transforming your current space into the ultimate zen zone may sound impossible. But, fear not; the Bemboka team has pulled together its top five simple bathroom ideas for unwinding, pampering and taking time for you.
Invest in a bathrobe
Never underestimate the luxury of a good quality bathrobe. Simple, comfortable and stylish, we guarantee it will be one of your best bathroom buys for years to come. The bespoke Bemboka Knitted Bathrobe collection, available in a variety of neutral tones in either 100% cotton or bamboo, are luxuriously soft, chic in design and instantly absorbent. Wrap it around you after a long bath or hot shower, or drape it over whist you apply a moisturizing face mask.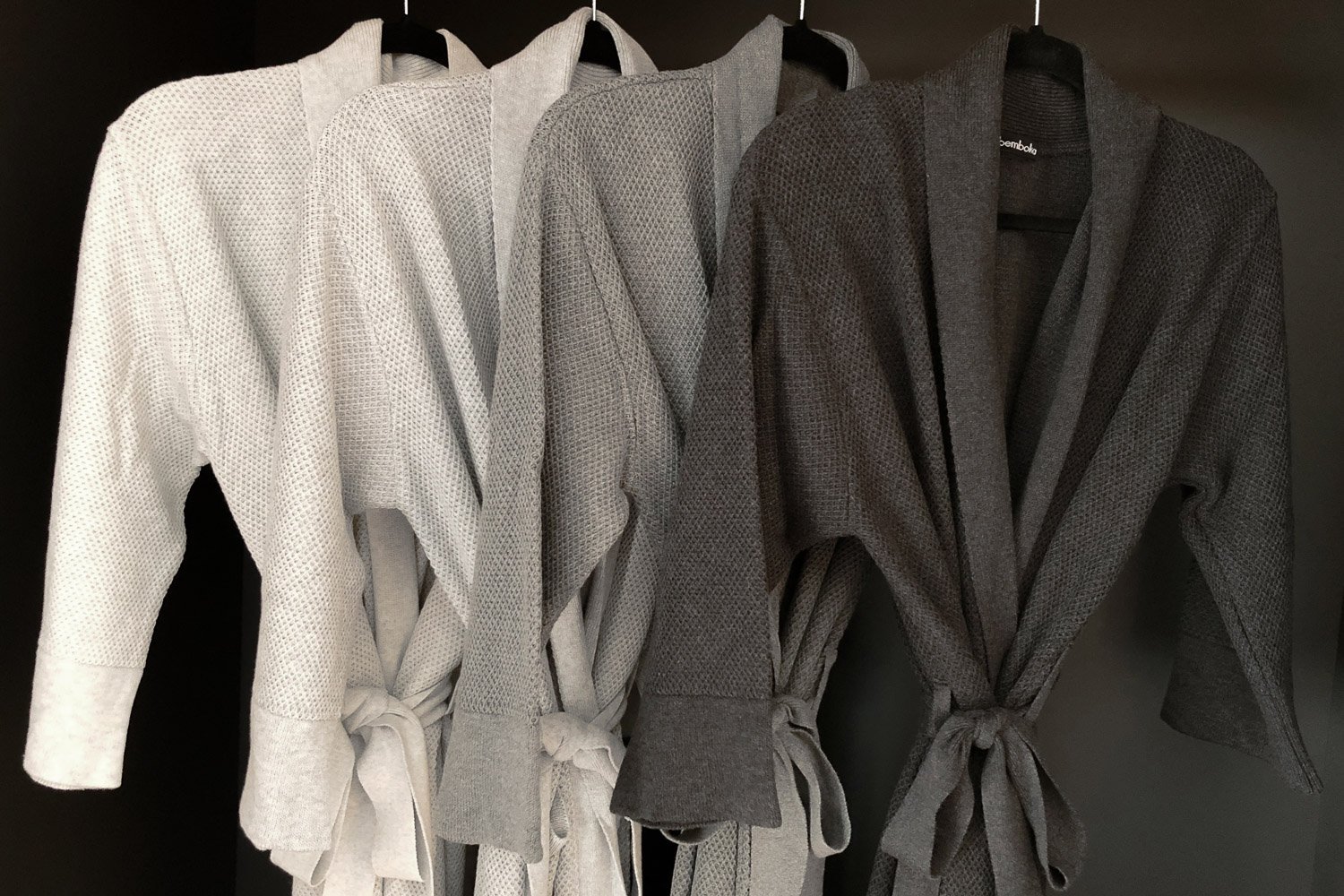 Cotton Bathrobes
Freshen up your space with bath towels
Every luxury bathroom idea starts with the investment in quality, fluffy cotton bath towels. Choose a neutral block colour to ensure timelessness and longevity. White is fresh, but dove, grey, charcoal or black do better with daily use. The Bemboka Turkish Jacquard Bath Towels are highly absorbent, designed with premium, 100% cotton, making them extra fluffy. By rolling them and displaying them on a sleek bathroom shelf saves space and creates that calming spa feel. Be sure to dry your towels correctly before rolling them to ensure they are well aired.
The little things
The finer things in life are often the most appreciated. Consider those little luxuries that truly allow you to relax and unwind in your bathroom space. Include a selection of scented candles, or an oil diffuser. Remove labels from bottles for a sleek, sophisticated finish, or include a matching reusable soap dispenser and lotion set. Include some subtle greenery, such as a miniature Fiddle Leaf, or hanging Pothos plant. Earthy accents, like a wooden bath caddy, are both chic and functional additions to your bathroom décor.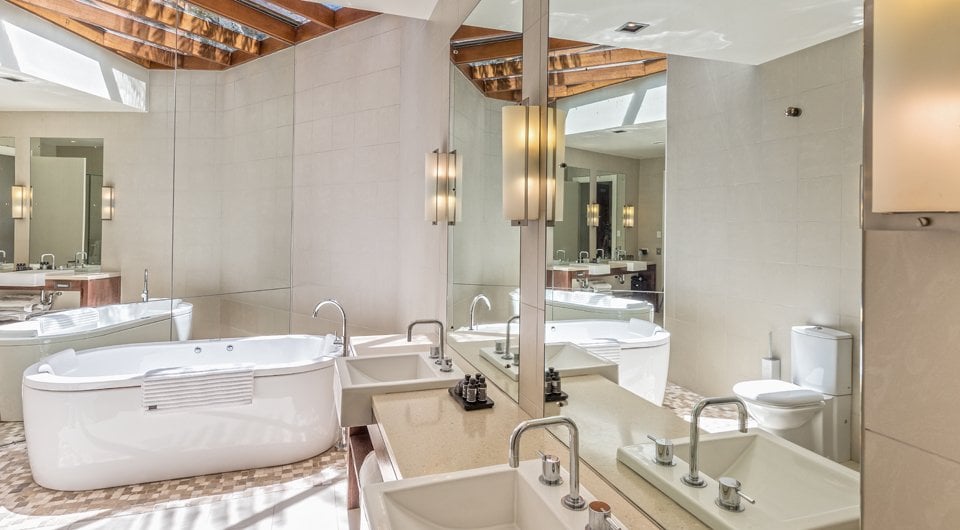 Jacquard Bath mat in white colour | Spicers Peak Lodge
Mute your colour palette
Muted, natural tones and clean lines are both calming and simple luxury modern bathroom updates. If you're able to update your bathroom colour scheme, choose shades like soft greys, blues, creams and other calming hues. This assists the busy mind in being relaxed, and creates a soothing ambience. It is important to bear in mind an idea of bathroom lighting. The ability to welcome natural light into a room has an astounding effect on wellbeing. A feature basin, such as cement or stone, adds soft contrast, and with curves and arches trending, the ambience can be carried through to the rest of the home.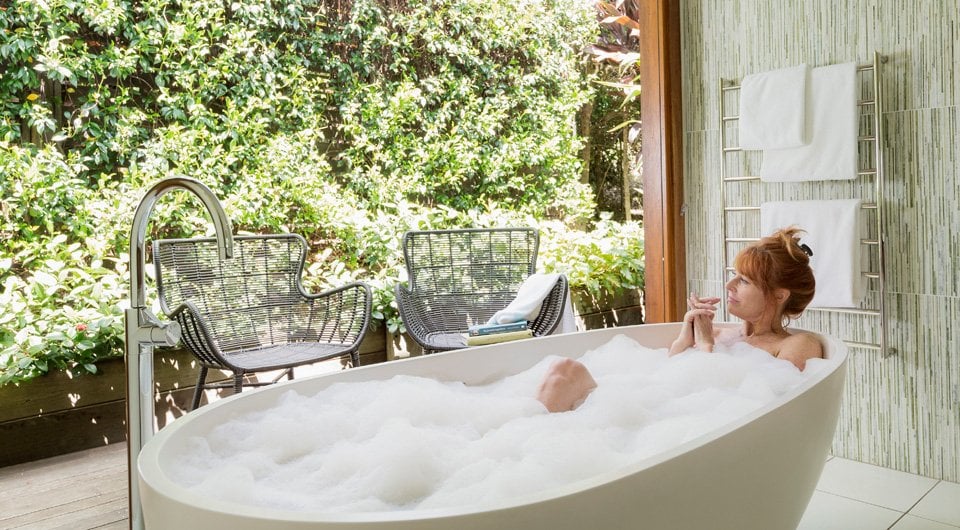 Jacquard Bath Towels in white colour | Spicers Retreats
Declutter your space
A calm space is a tidy space, so organization is crucial in maintaining the zen zone. Minimal is more. Leave vanity's clean and clutter-free by organizing products beneath the counter. Consider using natural or woven basket, which keep the aesthetic flowing from the room to the storage space. The piece of mind your cabinets are clean will do more for you than you realize!
Read More